Play time!
SCHOOL'S OUT 🤸‍♀️ What better time to open a new playground!

We've just unveiled the new playground at Bardsley Park, Shelharbour 🥳

☀️ It was the perfect day to explore the new climbing frame, swings, ocean-themed seesaw with accessible platform, nature play trail, balance beam & hopping logs, all with a stunning ocean view! 🌊
We really ❤️ the communication board 🗨️ The pictures can be used to help neurodiverse people communicate.
We've also added two sheltered picnic tables, bubbler/water station & dog bowl for those park picnics with all the family 🐕
About the play space
This design has been created utilising the feedback gathered from the community during the consultation phase held last year.
You will notice we've chosen nature play pieces & light hardwood timber to complement the natural setting of the coastal park. 🌳🏖
We have made good use of the existing trees so there will be plenty of natural shade mixed with two shade-covered picnic tables. Perfect for those beach plays and picnic days.
Some of the key features will include:

Parcour climbing frame with ropes, knots, nets and a ladder
2 swings with a 'You and me' seat designed for both adults and children
Ocean-themed seesaw with an accessible platform
Nature play trail including stilts, a balance beam and hopping logs
Softfall
2 picnic tables (with shelters)
Sydney Water bubbler/water station and dog bowl
Accessible footpath and improved connectivity
A mix of formal and informal seating
Updated landscaping
The two mature, heritage-listed Norfolk pine trees on the northern side of the park provide a large amount of shade over the new playground (see below). The playground has been moved to maximise natural shade. The renewed space will also include 2 sheltered picnic tables (see picture below).
The renewed space will also include 2 sheltered picnic tables, similar to the below.
As a general rule, Shellharbour Council, alongside most Local Government Authorities and Industry professionals, do not fence play spaces. Play Australia, the peak national advocacy organisation for play, advises there is no legislative requirement for playgrounds in public spaces to be fenced.
Park designs revealed
About the location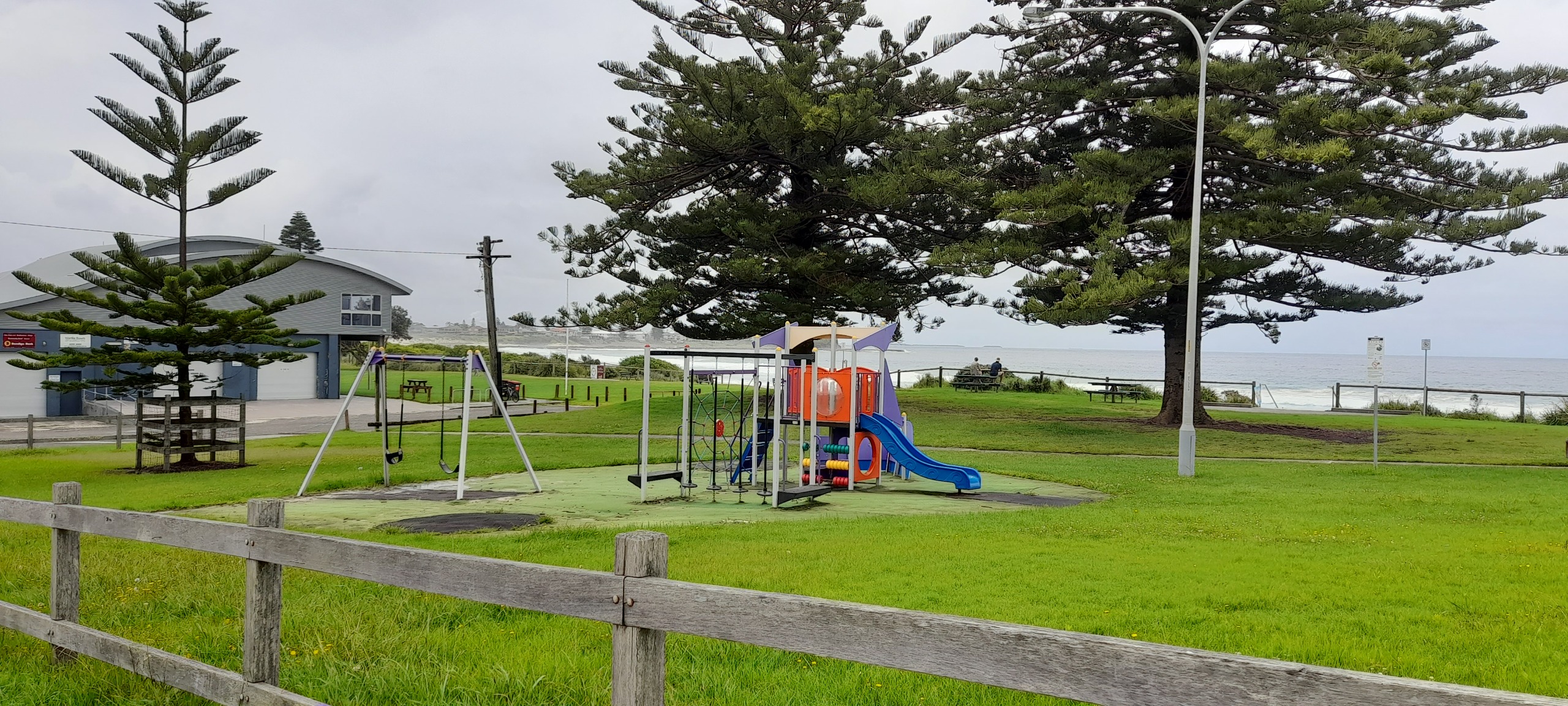 The current playground will be removed and the park will be upgraded to a space where everyone can play and stay.

But before we go ahead with this project we want to chat with you about what this might look like and what your preferences are for the various elements at this location to make sure we create a space for everyone to enjoy!
Bardsley Park is a local park located at North Beach, Shellharbour. The space caters for a range of uses and is a popular location for visitors and residents.
Existing facilities include beautiful heritage listed North Folk Island trees, footpath, parking and amenities block.
Past Feedback