Great public spaces don't just happen. To make a place great requires sound planning and significant investment.
We are excited to announce that Shellharbour City Council has received grant funding for the Reddall Reserve Promenade Renewal as part of the Public Spaces Legacy Program.
The NSW Government will assist Council with project costs by providing a $3 million grant for the upgrades.
To access the funding, Shellharbour City Council demonstrated accelerated development assessment processes. This assists to keep the broader economy moving and bolster the construction industry.
What will the new promenade look like?
Last year we asked for feedback on the initial concept designs for the promenade. Since then, we have been working with dsb Landscape Architects to implement some of the suggested changes. Take a look at the latest concept designs.
The Reddall Reserve Masterplan identified the promenade for renewal. The replacement will provide new and improved foreshore seating, increased pedestrian accessibility, safeguard against shoreline erosion, reduced maintenance and provide greater connection to the wider Reserve.
Timeline
Timeline item 1 - complete

Community consultation

Timeline item 2 - complete

Design

Concept Designs prepared by landscape architect

Timeline item 3 - complete

Tender & Contractor awarded

Construction Package Out to Tender

The preferred tenderer will be considered by Council later this year.

Timeline item 4 - active

Stage 1 - Southern End

Construction to start Oct 2022.

This stage is expected to be completed in early May 2023

Timeline item 5 - active

Stage 2 - Northern End

Construction to start in late March 2023.

This stage is expected to be completed in early August 2023

Timeline item 6 - incomplete

Construction complete

The finished promenade is now open!
Stage 2 Updates
With stage 1 works drawing close to completion, the timber piles have been fitted and next is installing the bench seating, with the beach area closed. Hold tight as the beach access for the southern half will be opening soon.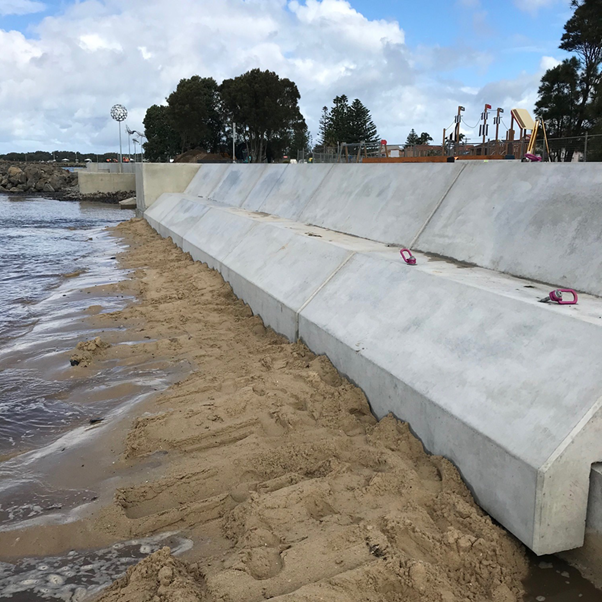 Stage 1 Updates
Existing Promenade
Existing Promenade
Feedback